We believe that points of sale are decisive places, where images play a role as important as the products themselves. Therefore we manage entire projects, from initial ideas to final results.

DESIGN
An idea takes shape and colour at the design stage. An idea is defined in a brief, which sets forth the objectives to reach and additional contextual information. That is, the values of the brand, the target public, the campaign or exhibition duration…
We carefully analyse the idea conveyed by the customer; we raise questions and suggest possibilities … And we start the brief review, which is a report that aims to translate a customer's good intentions into the best results.
With this, we can develop a prototype or virtual recreation of the project. It is a time of surprises where we realise we might have missed something or we might need to emphasise certain messages. We fine-tune the prototype and we move to the layout, where the visual and/or volume features are finalised. The ideas take shape.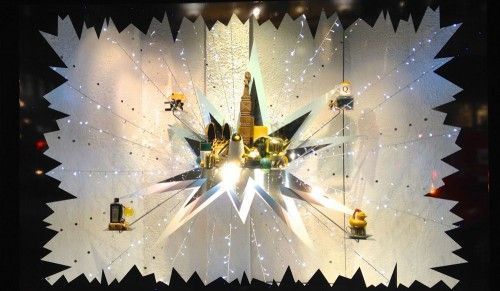 MANAGEMENT
Our experience has provided us with insight on visual communication needs at the point of sale. We have also specialised in managing such projects with different tools that optimise processes, saving time and improving results.
We have developed databases with graphic elements to produce for a specific point of sale, differentiating by criteria, such as media types, quantities, languages, locations, printing and finishing techniques. These databases are used to expedite orders and guarantee the accuracy of the final product.
We update your point-of-sale layout and make the necessary modifications for each campaign. Thus, each project starts from a fixed base and we only have to modify what varies from project to project, with subsequent savings of time and resources.
Our imposition software optimises printing on raw materials, achieving efficient finishes, ensuring that you spend the minimum amount of product and we respect the environment by minimising waste.
We also have the Sabaté Virtual Decorator. This tool displays the results in the point of sale before hand, saves the project to the cloud so that it can be quickly retrieved when needed again. With this Virtual Decorator, we can automate the workflow between the end customers and the printers, which guarantees our efficiency and your satisfaction.
PRINTING AND HANDLING
We are renowned for being in the vanguard for materials and technology; we always have the best method to obtain the desired result.
Our print substrates, flexible and rigid, are intended for advertising and decorative purposes. Vinyl decals, desktop displays, posters, aerials, canvases, fabrics, floorings and shop window backdrops, wall linings, light boxes and resistant materials for outdoor use. All-Fix vinyl is specially useful in shops. This material, perfect for short-term campaigns, is easy to apply, without wrinkles or air-bubbles, can be repositioned without leaving residue and can be applied on both glass and opaque surfaces. In addition, it is both economical and saves time because it is easy to apply. We demonstrate it here.
Many of these materials are recyclable and we use odourless inks for printing. Other materials are a sound investment, like the All-Fix vinyl: they do not need to be applied by professionals and can be reused for multiple makeovers, largely paying off costs.
Once the media are printed, our professionals handle them: they cut out shapes, cut edges, make seams, laminate, add glue, shape them … Always to ensure the best outcome.
PACKAGING AND LOGISTICS
Everything is manufactured and remains in good hands. Logistics is important, and time and experience have helped us to design a protocol for total control.
First, all jobs are reviewed and a supervisor confirms their quality by signing the review.
Then, with the utmost care, they are perfectly packaged. We manufacture our own custom packaging so it will always be the most appropriate.
The labelling process maintains these principles and is totally customised according to customers' preferences.
For shipping and distribution, we have our own daily delivery vehicles and we work with the leading companies for domestic and international shipments. Always on time.
ASSEMBLY AT THE POINT OF SALE
Our professionals will assemble any project on site. From the beginning, assembly instructions for installers are prepared and our installers are always in constant communication with the design and manufacturing departments.
We have multidisciplinary teams all over the country, so that we can carry out multiple assemblies simultaneously and within a very short time.
Our customers can count on us from the beginning to the end.