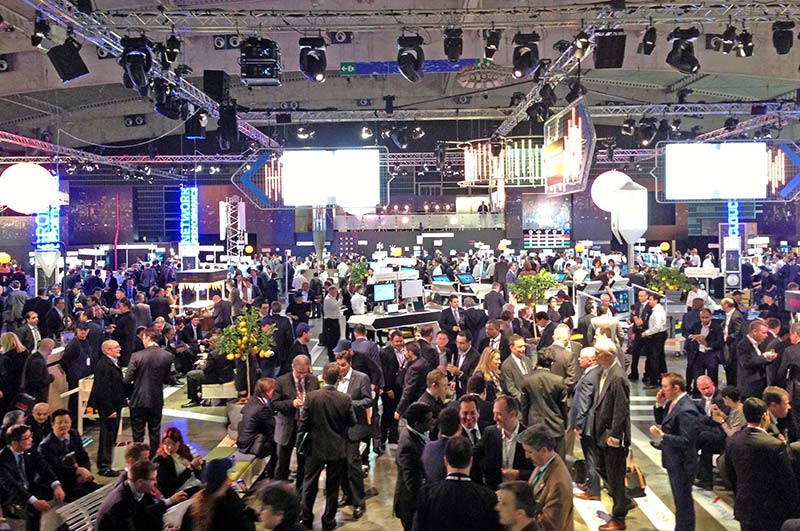 It's a new year and a new start. That means that the fair and event season has started too.
We are specialists in provide the highest quality printed solutions for that kind of occasions, creating POS displays to show your company's best side.
As a leading company in the Spanish digital printing business, we implement the most innovative and ecological production methods to satisfy our client demands.
We delivery all over the Spanish territory thanks to being very strict with the production and distribution timings because we understand that the balance between workflow and quality is the only way to success.
We offer you're the following solutions for exhibitions:
Roll up banners
Stands
Posters
Displays
Standees
Flags
Banners
Folding systems
Outdoor displays
Pop up Shops and retail merchandising units
Don't hesitate and contact us to know what we can do for you to improve your event experience and how the world sees you.
Below we show you a list of the main events of Barcelona and Madrid in 2016.
HOREQ – Madrid / 20 – 22 January
FITUR Madrid / 20 – 24 January
EXPOHOGAR SPRING – Barcelona / 23 – 26 January
PROMOGIFT – Madrid / 27 – 29 January  
BISUTEX – Madrid / 3 – 7 February
INTERGIFT – Madrid / 3 – 7 February  
MADRIDJOYA – Madrid / 3 – 7 February
NOMAD METRÓPOLIS – Madrid / 5 – 7 February
JAPAN WEEKEND – Madrid / 13 – 14 February
MERCEDES-BENZ FASHION WEEK – Madrid / 19 – 23 February 
MOBILE WORLD CONGRESS – Barcelona / 22 – 25 February
4YFN – Barcelona / 22 – 25 February
SEMANA DEL SEGURO – Madrid / 23 – 26 February
SICUR – Madrid / 23 – 26 February –
ARCO – Madrid / 24 – 28 February
WORLD OLIVE OIL EXHIBITION  – Madrid / 2 – 3 March
AULA – Madrid / 2 – 6 March
EXPOELEARNING – Madrid / 3 – 4 March
FORO DE POSTGRADO – Madrid / 3 – 6 March
INTERDIDAC – Madrid / 3 – 6 March
PROPET – Madrid / 3 – 5 March
MOMAD SHOES – Madrid / 4 – 6 March
INFARMA – Madrid / 8 – 10 March
WORLD ATM CONGRESS – Madrid / 8 – 10 March
SALÓ DE L'ENSENYAMENT – Barcelona / 9 – 13 March
EXPODENTAL – Madrid / 10 – 12 March
ESHOW – Barcelona / 16 – 17 March
CINEGÉTICA – Madrid / 17 – 20 March
ALMONEDA – Madrid / 2 – 10 Abril
SALÓN DE GOURMETS – Madrid / 4 – 7 April
EXPOÓPTICA  – Madrid / 8 – 10 April
HANDMADE FESTIVAL – Barcelona / 8 – 10 April
FUTURA – Madrid / 11 – 12  April
INTERNATIONAL LIVER CONGRESS – Barcelona / 14 – 16 April
B-TRAVEL – Barcelona / 16 – 17 April
FUTURIZZ – Madrid / 20 – 21 April
RT IMAGING SUMMIT & EXPO EUROPE – Barcelona / 21 – 22 April
EXPOFRANQUICIA – Madrid / 21 – 23 April
EXPO ECO SALUD – Madrid / 22 – 24 April
MADRID BEAUTY DAYS – Madrid / 22 – 24 April
ALIMENTARIA – Barcelona / 25 – 28 April
BARCELONA BRIDAL FASHION WEEK – Barcelona / 26 – 29 April
MAC FRUIT ATTRACTION MENA – Madrid / 4 – 7 May
SIMA – Madrid / 5 – 8 May
SALÓN DEL CÓMIC – Barcelona / 5 – 8 May
COSMOBELLEZA – Barcelona / 7 – 9 May
MADRID AUTO – Madrid / 10 – 15 May
SALÓN DEL VEHÍCULO PROFESIONAL Y FLOTAS DE MADRID – Madrid / 10 – 15 May
DENIM PREMIÈRE VISION – Barcelona / 17 – 19 May
CONGRESO DE LA SOCIEDAD ESPAÑOLA DE REUMATOLOGIA – Barcelona / 18 – 21 May
BEBES&MAMAS – Barcelona / 21 – 22 May
100 X 100 MASCOTA – Madrid / 21 – 22 May
BIT –  Madrid / 24 -26 May
BIZBARCELONA  – Barcelona / 1 – 2 June
SIL – Barcelona / 7 – 9 June
SICI  – Madrid / 8 – 11 June
ENVIFOOD – Madrid / 15 – 16 June
ESCLEAN – Madrid / 15 – 17 June
SRR – Madrid / 15 – 17 June
TECMA – Madrid / 15 – 17 June
GENERA – Madrid / 15 – 17 June
SÓNAR – Barcelona / 16 – 18 June
MULAFEST – Madrid / 23 -26 June
GAMERGY – Madrid / 24 – 26 June
BARCELONA HARLEY DAYS – Barcelona / 15 – 17 July
BISUTEX – Madrid / 7 – 11 September
INTERGIFT – Madrid / 7 – 11 September
MADRIDJOYA – Madrid / 7 – 11 September
MOMAD METRÓPOLIS – Madrid / 9 – 11 September
MOMAD SHOES – Madrid / 9 – 11 September
EURO ATRACTIONS SHOW – Barcelona / 20 – 22 September
UNIBIKE – Madrid / 23 – 25 September
PUERICULTURA MADRID – Madrid / 23 – 25 September
BARCELONA TATTOO EXPO – Barcelona / 30 September – 2 October
CPHI WORLDWIDE – Barcelona / 4 – 6 October
FRUIT ATTRACTION – Madrid / 5 – 7 October
MADRID GAMES WEEK – Madrid / 6 – 9 October
SALÓN NÁUTICO – Barcelona / 12 – 16 October
MOMAD-1001 BODAS – Barcelona / 14 – 16 October
CARAVANING – Barcelona / 15 – 23 October
BARCELONA MEETING POINT – Barcelona / 19 – 23 October
SIMO EDUCACIÓN – Madrid / 19 – 21 October
SIMA OTOÑO – Madrid / 21 – 23 October
HOSTELCO – Barcelona / 23 – 26 October
IOT SOLUTIONS WORLD CONGRESS – Barcelona / 25 – 27 October
CONSTRUTEC – Madrid / 25 – 28 October
MATELEC – Madrid / 25 – 28 October
PIEDRA – Madrid / 25 – 28 October
VETECO – Madrid / 25 – 28 October
SALÓN DEL MANGA – Barcelona / 29 October – 1 November
SALÓN LOOK MADRID – Madrid / 5 -7 November
EXPOHALAL SPAIN – Madrid / 10 – 11 November
ORTO MEDICAL CARE – Madrid / 10 – 11 November
BIOCULTURA – Madrid / 10 – 13 November
BEBES&MAMAS – Madrid / 12 – 13 November
SMART CITY ESPO WORLD CONGRESS – Barcelona / 15 – 17 November
DENIM PREMIÈRE VISION – Madrid / 16 – 17 November
FERIA DE EMPLEO PARA PERSONAS CON DISCAPACIDAD – Madrid / 16 – 17 November
METALMADRID – Madrid / 16 – 17 November
FERIARTE – Madrid / 19 – 27 November
EMPACK – Madrid / 23 – 24 November
LOGISTICS – Madrid / 23 – 24 November
PACKAGING INNOVATION – Madrid / 23 – 24 November
MADRID HORSE WEEK – Madrid / 24 – 27 November
¡TAXI! – Madrid / 26 – 27 November
IBTM WORLD – Barcelona / 29 November – 1 December
AUTO RETRO – Barcelona / 2 – 6 December
JUVENALIA – Barcelona / 6 – 11 December
GAMERGY – Madrid / 9 – 11 December
ALMONEDA – Madrid / 14 -18 December